You're invited to our annual fall party, Biketoberfest!
Food & drink, raffle prizes, a "bicycle orchestra" and more!
We've been working hard all year to improve biking in Boston. Now, it's time to celebrate — and we hope you'll join us on October 17th to do just that at our annual bike bash, Biketoberfest!
Biketoberfest 2019
October 17th, 2019 // 6:30 p.m. – 9 p.m.
Benjamin Franklin Institute of Technology
(41 Berkeley St, Boston, Massachusetts 02116)B
---
At Biketoberfest, you'll get to party with hundreds of your friends and fellow cyclists, all while supporting our mission to make biking safer and more accessible throughout Metro Boston. Enjoy free food, beer, wine and cider (with the price of admission), boogie to live music from a "bicycle orchestra," and vie for some amazing raffle prizes — valued collectively at over $1,000! You'll also get to learn more about our campaigns and how to get involved, as well as our exciting new strategic plan which will help us have an even bigger impact in transforming Boston into a world-class bike city.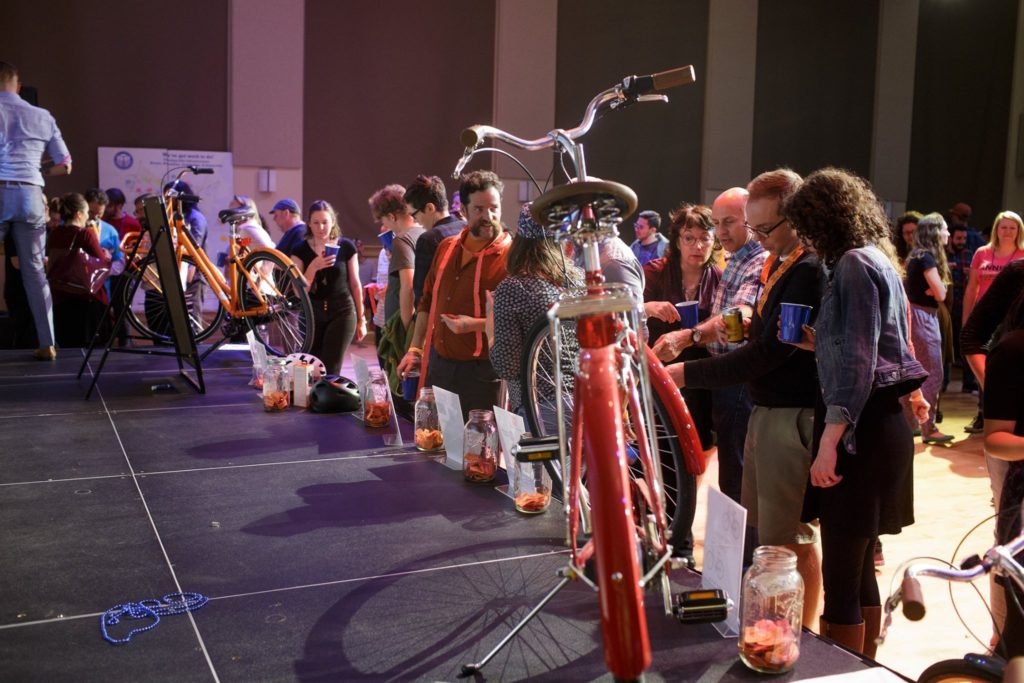 All proceeds from Biketoberfest directly fund our work. That means your ticket not only grants you access to the biggest bike party of the year, but it also supports our campaigns to win better bike infrastructure — like the new protected bike lanes on the Craigie Bridge — and our programs that grow and diversify Boston's bike community. Plus, it helps us continue to host fun, social events that bring people together around a shared joy of bicycling — events like Biketoberfest.
You don't need to be a Bike Union member to attend Biketoberfest. However, you can join the Bike Union or renew a membership for less than half the standard rate when purchasing a ticket to Biketoberfest. That's a deal!
We hope you'll join us in celebrating our progress to date, and stand with us as we continue working on behalf of you and everyone else who bikes in Metro Boston.