Two chances to shape Mass Ave's next bike lanes
Bike or walk Mass Ave. with BTD officials to show where improvements are needed!
The Boston Transportation Department is moving ahead with plans to add bike lanes to Mass Ave., between Melnea Cass Blvd. and Columbia Rd. — and they want your feedback on how this project should take shape.
The BTD is hosting two walk- and ride-along events on this stretch of Mass Ave. ("Mass Ave. South") so residents can show in person where improvements are needed and suggest what long-promised bike infrastructure should look like along this corridor. The first event is this Wednesday, and we urge you to attend so you can tell BTD staff in person: Protected bike lanes save lives.
Don't miss this chance to influence the critical, early planning stages of this important project!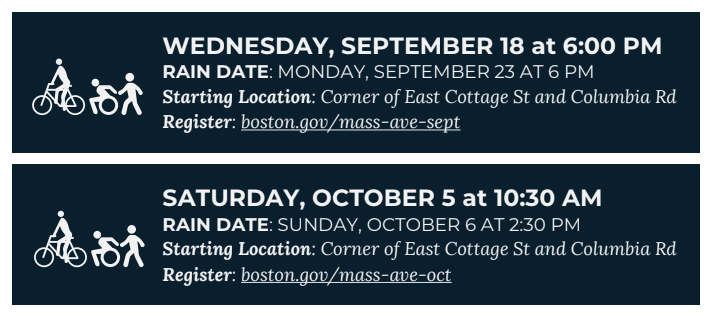 Filling this gap in the bike network with physically separated infrastructure is critically important and long overdue for cyclists heading into Downtown Boston from Dorchester and further South. Since launching an on-the ground campaign in summer 2018, we secured a commitment from the City to fund and build bike infrastructure along this corridor. If we remain active and engaged in the process, we're confident we can win protected bike lanes — and the next steps in the process are these listening sessions with BTD.
You can find more info and RSVP to the September ride-along here, or RSVP to the October 5th ride-along here.
Please note: BTD requires participants biking to wear helmets. If you need a helmet, register for the event and BTD can provide one for you.