Tremont Street Needs Protected Bike Lanes
Plans to redesign Tremont St frame the project as "pedestrian improvements" intended to prioritize "the safety and comfort of people walking along and across Tremont St." They do not mention prioritizing cyclist safety.
If you missed the November 28 public meeting on this project and want to learn more, the Boston Transportation Department is holding office hours next week to share and get feedback on three concepts for redesigning Tremont Street (between Melnea Cass Blvd. and Herald St.) before moving on to the next design phase. Only one of these concepts includes the necessary physical separation for cyclists. (More specifics on that concept below.) We need your help to ensure that the concept chosen is above all focused on maximizing safety for all.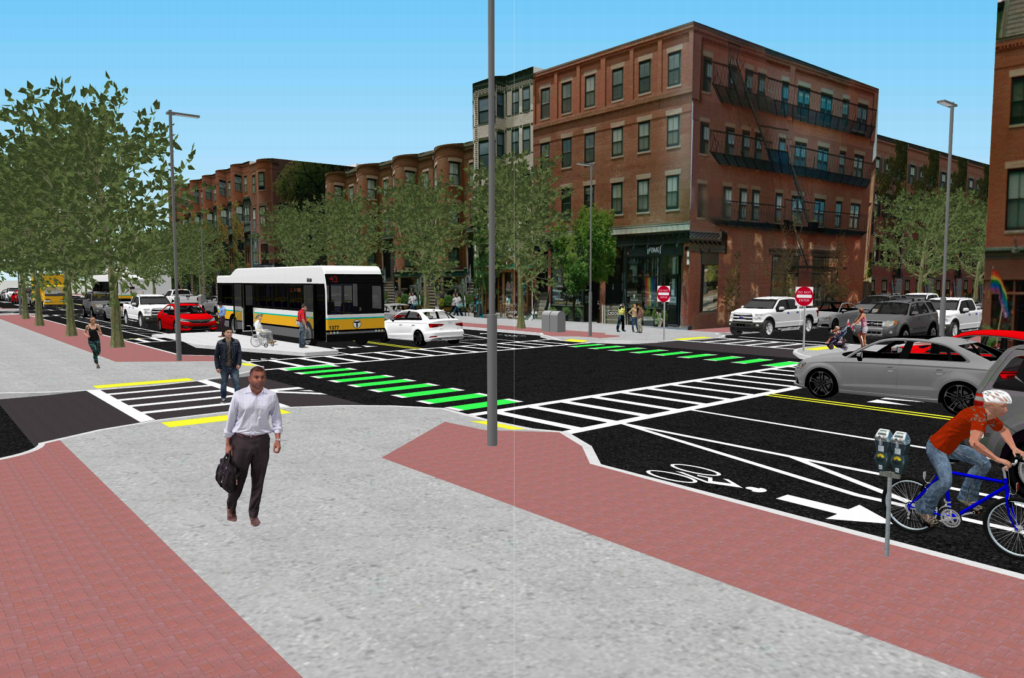 Pedestrian safety is, rightly, being improved here after two fatal crashes, in 2015 and 2017. But why can't we prioritize the safety of all road users in the redesign? Do we have to wait for a cyclist to also be seriously injured or killed here before addressing cyclist safety? In the past year, there were 4 cyclist injuries and 6 pedestrian injuries on this section of Tremont St. We deserve a Tremont St that provides the highest level of safety for pedestrians and cyclists. That's particularly true given that this project is being funded from the very limited strategic bike network budget.
If you live, work, or travel along Tremont Street and have not yet submitted your feedback, here is what you can do:
Attend one of the two office hours being held next wee: Monday, February 4 from 10 a.m.-noon or Friday, February 8 from 3-5 p.m. Both are being held at the Boston Public Library branch at 685 Tremont St.
Submit feedback in person or to stefanie.seskin@boston.gov and CC us at info@bostoncyclistsunion.org so we can measure our impact and follow up with you. We also suggest you CC your elected officials, Kim.Janey@boston.gov, Ed.Flynn@boston.gov and Jon.Santiago@mahouse.gov. Additionally, you can give feedback on each design through the City's form.
Endorse a design that creates physical protection for cyclists — Concept 1 is the only one that includes protected bike lanes (see more below). Concept 1 has room for pedestrian islands as well, and we encourage adding them to increase pedestrian crossing safety.
Urge swift action — The City said that due to National Grid's repaving schedule, implementation may not happen until 2021. That is too long to wait for safety improvements. Ask the City to renegotiate the paving timeline with National Grid so the project can be implemented sooner.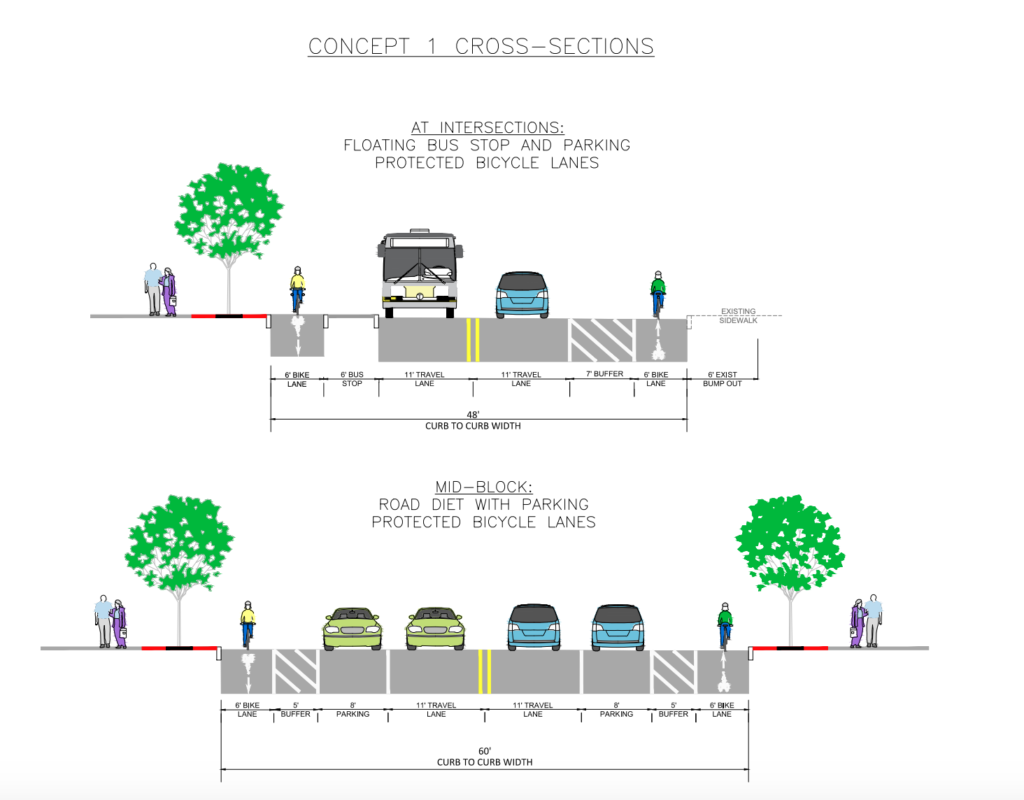 We believe Concept 1 (pictured above) offers the most significant improvements to both pedestrian and cyclist safety. In addition to elements that we support in all three concepts, like raised crosswalks and signal retiming, Concept 1 provides:
1) A reduction in vehicle travel lanes, called a "road diet," which frees up space for bike infrastructure and makes pedestrian crossings shorter.
2) Parking-protected bike lanes that provide cyclists with physical protection from cars. Concept 2 proposes only painted bike lanes which, given the current level of double parking on Tremont St, we believe will be used as a parking lane and push cyclists in moving traffic. You can share this video that shows how bike lanes along commercial areas become parking lanes when there is no physical protection.
3) Narrower travel lanes which would suit the road's surroundings and original intent as a "neighborhood collector" by slowing traffic to a safer speed.
4) Floating bus stops to provide a safe and efficient way for people to board and disembark. Because of the infrequence of the 23 bus, this would also have almost no impact on vehicle wait times.
Based on feedback we have heard from residents and businesses, we also suggest adding to Concept 1:
Pedestrian crossing islands at unsignalized intersections.
Designated parking spaces for deliveries and drop-offs to reduce the amount of double-parking and meet business and resident needs.
For a project that is being done in the name of safety, and with funding from the bike network, we must demand safety for cyclists as well as pedestrians. Don't miss this chance to make your voice heard!