The I-90 Megaproject Could Be A Boon For Biking
Massachusetts is undertaking a colossal construction project to reconfigure I-90 in Allston, which could mean big changes to bike facilities to and through this area, including the Paul Dudley White (PDW) path. Don't miss your chance to engage in the public process around this transformative, far-reaching project!
Here's what you can do:
Show up and speak up — MassDOT and the Federal Highway Administration (FHWA) will kick off the federal review process with an informational meeting Thursday night. This meeting marks the start of a 30-day comment period, making it your first chance to weigh in during this phase.
Stay informed — Sign up for updates from MassDOT about the Allston Multimodal Project here.
---
Allston I-90 Multimodal Project Public Meeting
Thursday, Nov. 7
6:30 – 8:30 p.m.
Brighton High School, 25 Warren St.
---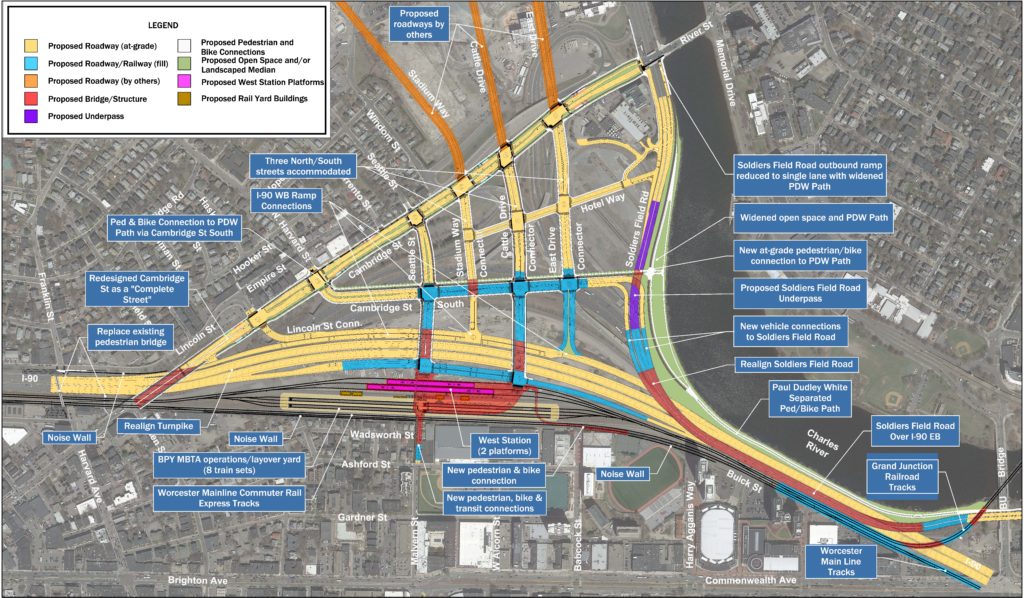 Begun in 2014, the Allston Multimodal Project's main objectives are improving I-90 and Soldiers Field Road, while creating a new stop (West Station) on the Framingham/Worcester commuter line. Yet the scope and scale of those changes, impacting roughly 90 acres of land, means the potential to simultaneously increase the utility, accessibility and safety of bike and pedestrian facilities throughout the area. Improved transit connectivity, via the new West Station stop and a potential new line from there to Kendall Square and North Station, are also desired outcomes. (You can read a more in-depth history and overview of the project from Streetsblog here.)
The potential improvements to bike infrastructure are significant. For one, the latest plan calls for relocating Soldiers Field Road further from the Charles River, thus opening more green space to accommodate a widening of the PDW path. (At present, this section of the path is dangerously narrow and pressed right up against the road.) The plan also proposes a new protected bike lane, on Cambridge St. in Allston, alongside other new bike and pedestrian facilities, too.
Then there are the transit improvements, which could get many more people riding in what is now a car-choked corridor. Though construction is expected to last a decade, pushing completion past Boston's 2030 deadline to cut car trips in half, it would lay the foundation for supporting that mode shift for years to come.
It's imperative that we engage in the process NOW to ensure those bike and transit improvements — and hopefully even more — are included in the final design. Show up and speak up Thursday night, and then stay tuned for more information on how to shape this important project. We'll share more info on how to submit feedback after the meeting, as well as more specifics on what to push for, once we've heard the latest from MassDOT/FHWA.