Tell DCR: Protect cyclists on your roadways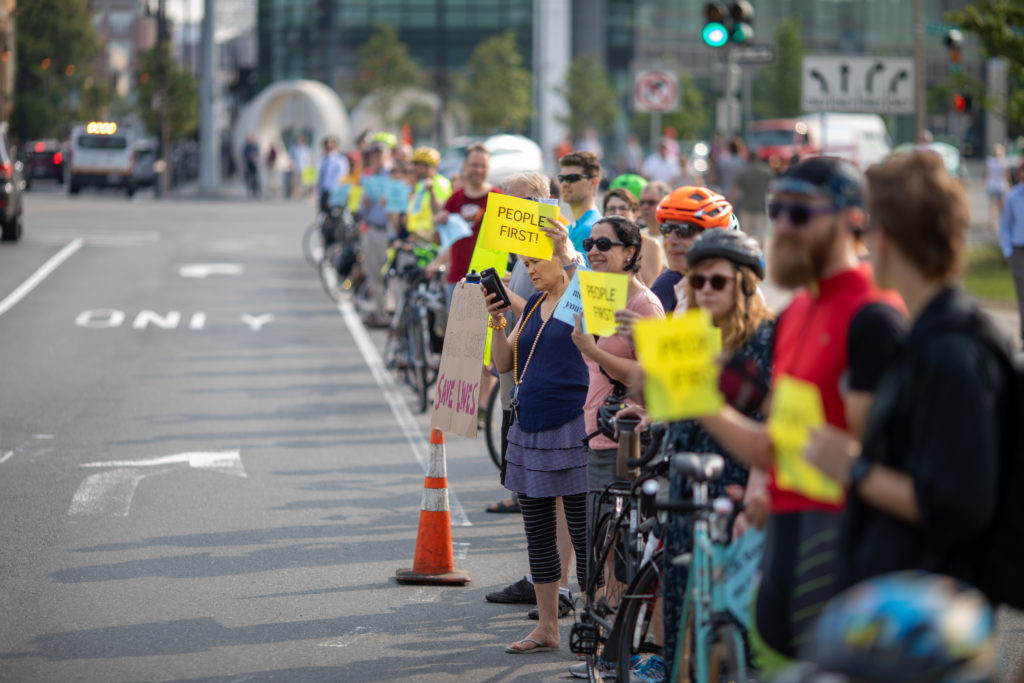 Last Thursday, we sent a powerful message to the Department of Conservation and Recreation (DCR) that we need more protected spaces for cyclists on our roads — and we need them now. Around 125 people stood ground on Fenway and Brookline Ave. to highlight the dangers of DCR's unprotected bike lanes on those roads, proving in the process that even during rush hour cars can move just fine along Brookline Ave. with one less lane for vehicle traffic. Thank you to all of you who took time out of your day to be there! (If you missed it, here are some photo highlights.)
We urge you to now help us carry on our momentum from that demonstration with two actions this week aimed at convincing DCR to modernize its approach to bike safety and street design.
On Wednesday, a coalition of advocacy organizations called the Memorial Drive Alliance will rally to call attention to the need for a road diet along Memorial Drive as part of theredesign process currently underway there. Following the rally, there will be a critical mass-style ride along Memorial Drive, from JFK St east to the BU rotary, to show how the road could be transformed with one less lane for cars in each direction.
Despite overwhelming public comment in support of improving the corridor for walking and bicycling and expanding green space, at the last public meeting DCR presented a plan which retains four lanes of motor vehicle traffic for most of Memorial Drive, including the parts where these improvements are most needed. 
Wednesday's ride will be a highly visible way to try to change these plans before they are finalized.
Memorial Drive Rally and Ride
Wednesday, July 17 starting at 5:30 p.m.
Intersection of Memorial Drive and JFK Street
As last week's demonstration showed, if we speak up publicly we'll be heard. Thursday's action received significant favorable coverage in the press, got more elected officials at the state level engaging in the conversation, and renewed attention from the City of Boston to continue expediting new protected infrastructure on Boylston St and, together with DCR, at intersections with Park Drive.
In addition to attending the rally Wednesday, it is critically important to write to DCR – even if you previously wrote in – to ask them to change their plan. To submit comments, visit their website and choose "Memorial Drive Greenway Improvements Phase III". Key points to include:
Replace 2 vehicle travel lanes with a protected bi-directional bike path. (Retain existing paths and sidewalks for pedestrians).
Protect existing trees and plant new trees wherever there are gaps.
---
DCR Stewardship Council Meeting
The second activist opportunity this week is DCR's Stewardship Council on Thursday morning, where you can share feedback directly to the Commissioner and members of the Council about Memorial Drive and Park Drive/Fenway, as well as the agency's general unwillingness to implement physically separated bike lanes.
DCR Stewardship Council Meeting
Thursday, July 18 from 8:30 – 11 a.m.
Dillaway-Thomas House, 183 Roxbury Street
Roxbury, MA 02119
The public comment period is toward the beginning/middle (full agenda) of this meeting, and then the public can join a working group to continue to talk with council members. If you plan to speak and have something written, please bring 10 copies. Talking points you could include:
DCR roadways where you travel, and safety concerns that you have experienced on them (including crashes)
Positive experiences you have had traveling in protected bike lanes, and an ask to start using protected bike lanes on DCR roadways
In general, why it is important to you for DCR to prioritize walking/biking/green space on and along their roadways
Particular comments related to Fenway/Park Drive and their intersections, the Arborway in Jamaica Plain, or Memorial Drive
These meetings rarely happen in Boston, so this is a unique opportunity to address DCR directly. We hope you can join us!