Progress on "Mass Ave South," and a chance to impact other plans nearby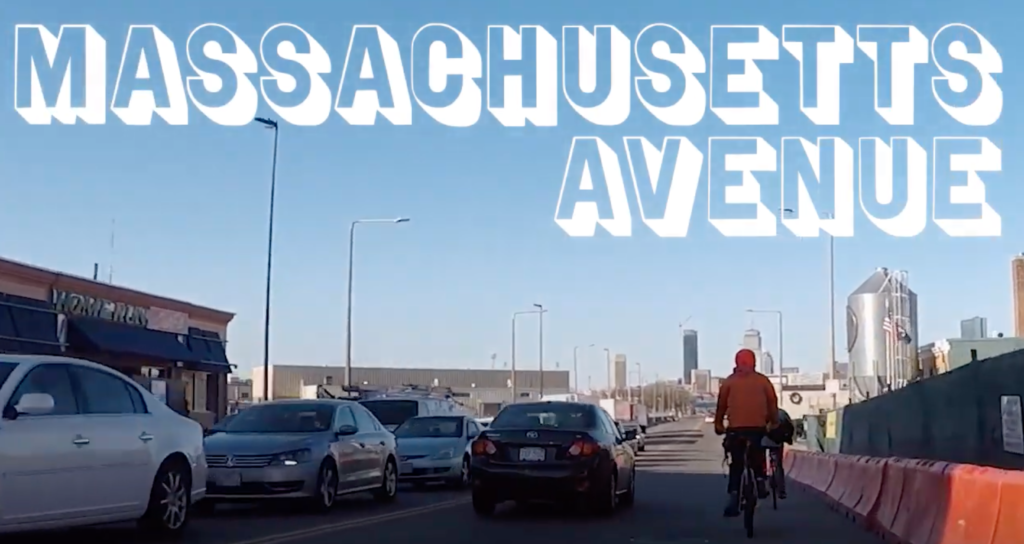 Thanks to you, Massachusetts Avenue south of Melnea Cass Drive ("Mass Ave South") is on track to become safer and more accessible for cyclists, but the work is far from over. Today in particular we are feeling the urgency to improve this stretch after a pedestrian was killed crossing Massachusetts Avenue at Melnea Cass this morning.Their name has not been released, and our heart goes out to their community. It is a stark reminder to keep the pressure and attention on this dangerous corridor.
As we gear up for the next phase of this campaign, we wanted to update you on the progress we've made, and alert you to two chances this week to weigh in on a plan that will impact Mass Ave. in the South End, Roxbury and Dorchester.
In March, we released a widely shared video that raised awareness about the need for better infrastructure along all of Mass Ave. Later that month, we went to City Hall to deliver a petition for protected bike lanes signed by almost 400 residents, and accompanied by a joint letter of support from area businesses, community organizations, churches and more.
Then in a major victory for our campaign, Mayor Walsh announced in April that Boston'sFY20 Budget will include $1 million "towards accelerating the design and construction of Boston's major bike corridors, including extending bike lanes on Massachusetts Avenue to Columbia Road." This announcement was the direct result of our campaign and your public pressure on Walsh to fulfill his commitment to improving one of Boston's most dangerous roads.
Thank you for speaking up, signing our petition and helping us get to our first milestone in this campaign!
This fall, the Boston Transportation Department (BTD) will begin the planning phase for this stretch of Massachusetts Avenue. During that phase, we will need to continue showing up and speaking up to ensure that protected bike lanes are included in the final design. Stay tuned for more info.
In the meantime, the Boston Planning and Development Agency (BPDA) is launching a planning process for the Newmarket District. From the BPDA's description of the project: "With land use as its primary focus, the initiative will also consider public realm, mobility, arts and culture, climate resilience, public health, and open space contributions to a successful future jobs center."
While this area is being flooded by development, it remains difficult to access via public transit or bicycle. It is important that the BPDA gets feedback now about improving mobility and adding physically separated bike infrastructure on and around Mass Ave. as well as increased bike parking and better access to green spaces and jobs.
---
If you live, work or commute here, we encourage you to attend a PLAN: Newmarket Open House this week:

Wednesday, June 26 from 8-9:30am
The Pipefitters United Association of Boston
40 Enterprise Street
Boston, MA 02125

Thursday, June 27 from 6-7:30pm
Alianza Hispana
1000 Massachusetts Avenue
Boston, MA 02118