Celebrate Somerville's New Protected Bike Lanes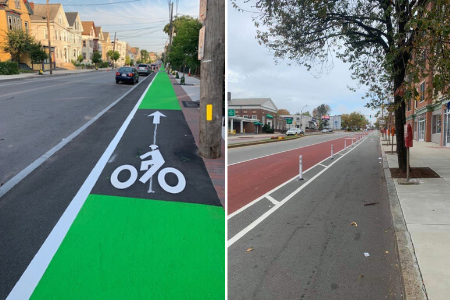 Show support for these projects with a ride and rally!
The Somerville Bicycle Committee and Somerville Bicycle Safety are co-hosting this event, which will herald the recent completion of the Beacon St. cycletrack, and the creation of a bus/bike lane and protected bike lanes on Broadway. The ride departs from the Whole Foods on Beacon St. before touring highlights of the bike network en route to Winter Hill Brewery for a toast and celebration. (For any non-drinkers, the brewery has excellent coffee and a full kitchen.) Attendees are encouraged to bring signs to the ride and rally to visibly show your support!
Don't let bikelash stop progress!
Drivers frustrated by busses and bikes efficiently zipping by them are mounting a vocal campaign opposing the changes, even though the new design is projected to shave 5 minutes per ride off of nearly 8,000 trips each day, possibly more, while increasing the reliability of buses on the corridor. Attending Sunday's rally and showing visible support for these projects is an excellent opportunity to help the public better understand their importance, while giving leaders the political willpower to be bolder about transportation safety, sustainability and accessibility.
4:00 PM — Celebration at Whole Foods on Beacon Street
4:30 PM — Ride from Whole Foods to Winter Hill Brewery
5:15-6 PM — Broadway Celebration at Winter Hill Brewery
You can find a full schedule and more info here. Feel free to participate in all segments or portions, but either way, we hope to see you on Sunday!
*P.S. If you can't attend Sunday, you can still send feedback to the city. Contact Mayor Curtatone (mayor@somervillema.gov), Mobility Division Director Brad Rawson (brawson@somervillema.gov), and the City Council (cityclerk@somervillema.gov) to thank them for this new infrastructure, and show your support for protected bike lanes!