Boston Bike Story: Reynaliz Herrera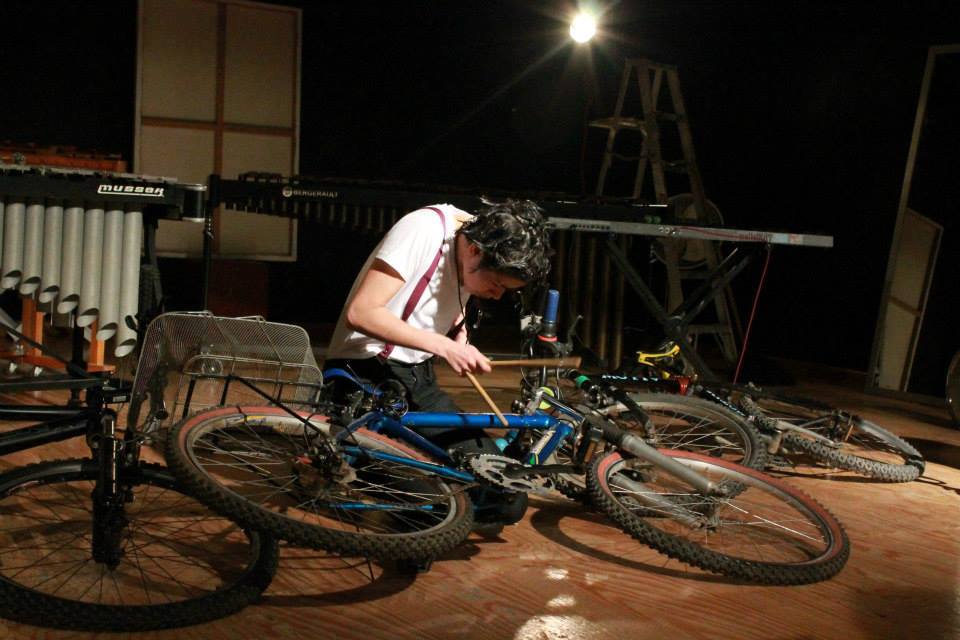 I guess I have two stories. One is biking, and one is making music with bicycles.
The first time I rode, I was 6 or 7 in Mexico, but I didn't have experience biking more until I was in Boston. Where I grew up, in Monterey, Mexico, there is no biking culture.
I came to Boston to study at the Boston Conservatory of Music, and my roommate gave me his bike so I tried it. I fell in love with biking. I've been commuting via bike for about 8 years. I bike from Braintree through Quincy to Ashmont, and that's about an hour. I'm always on my bike.
It's obviously cheaper and less stressful than taking the T and the bus. Mostly it's liberating and almost like drumming because you feel a rhythm while you ride.
I am a person who needs to be moving to feel centered.
My other story is my bike-music story. I've been playing percussion for over 20 years, and I have been fascinated by making music out of everyday objects. When I was little, I performed with my mom who was a dancer (she retired) and that experience encouraged me to experiment from a young age. I was immersed in the classical percussion world for many years and teachers expected me to be in an orchestra, but that wasn't the right fit for me.
After I finished school at Boston Conservatory, there was period of time when I was unemployed and I was trying to figure out how to bring drums and instruments to busk. Then it occurred to me to just drum on the bike that I was riding there anyway. I got really inspired by it.
After that, I wrote a piece for three bicycles. I was trying to figure out what I wanted to do with my musical career and was thinking about making my own group. Then I was invited to play a festival in Mexico by Mexican composers, and I played my bicycle piece which incorporated theatre and other elements. That's where Ideas Not Theories really started as a show. Then it grew and added bicycles in various ways.
The more I am myself, the better I will be. In music, also. I'm gonna do what makes me happy and what I feel connected to. And I found my place in the music. I've been doing Ideas Not Theories for almost 7 years. At first it was hard to get gigs, but now it's easier and it's exciting. Now there is the Ideas Not Theories rock band, the orchestra, the educational show, and the full 1-hour show. I work with a rotating cast. Getting the bikes to the shows can be a challenge, especially for tours, but I've learned which buses you can bring bikes on!
Reyna's next performance is the Cambridge Arts River Festival on June 1st.
You can follow Reyna on Facebook, Twitter and Instagram