In their words: Bike to Market volunteers reflect on the program's importance
Thank our B2M volunteers at
the Golden Cog Awards!
We will be celebrating our collective work over the past year, including Bike to Market, and honoring some outstanding people in our community at the Golden Cog Awards on December 3rd. Stay tuned for an announcement next week about this year's Golden Cog winners! In the meantime, register for the event (it's FREE!) below.

We could talk all day about why Bike to Market, our free bike repair program, which just concluded its 11th season, is as important as ever. Instead, we wanted to let our 2020 Bike to Market volunteers — who helped us fix more than 500 bikes this year! — share their thoughts on the program. Read on to hear about their experiences.
---
Working with Bike to Market has been a way for me to connect with my community, especially at a time when we're all keeping more distance from each other than usual. I love taking the time to talk to anyone that comes by the booth, whether they need help with their bike repairs, or are just curious to see what the BCU is up to in their neighborhood. Beyond this, working with B2M has enabled me to expand my knowledge of bike repairs by working with veteran mechanics. It's been a blast to help out this summer, and I know I'll be back for more in years to come!
— Kait
---
I've had a blast working with BCU and our community partners this summer because it's helped me see how impactful this work can be in peoples' lives. We've been able to repair a number of bikes and give folks a reliable, sustainable method of transportation while also teaching them to do some bicycle maintenance and repairs on their own. Boston is a city whose many neighborhoods are not equitably served by local bike shops and advocacy, so the work BCU does in this space becomes that much more meaningful.
— Spencer
---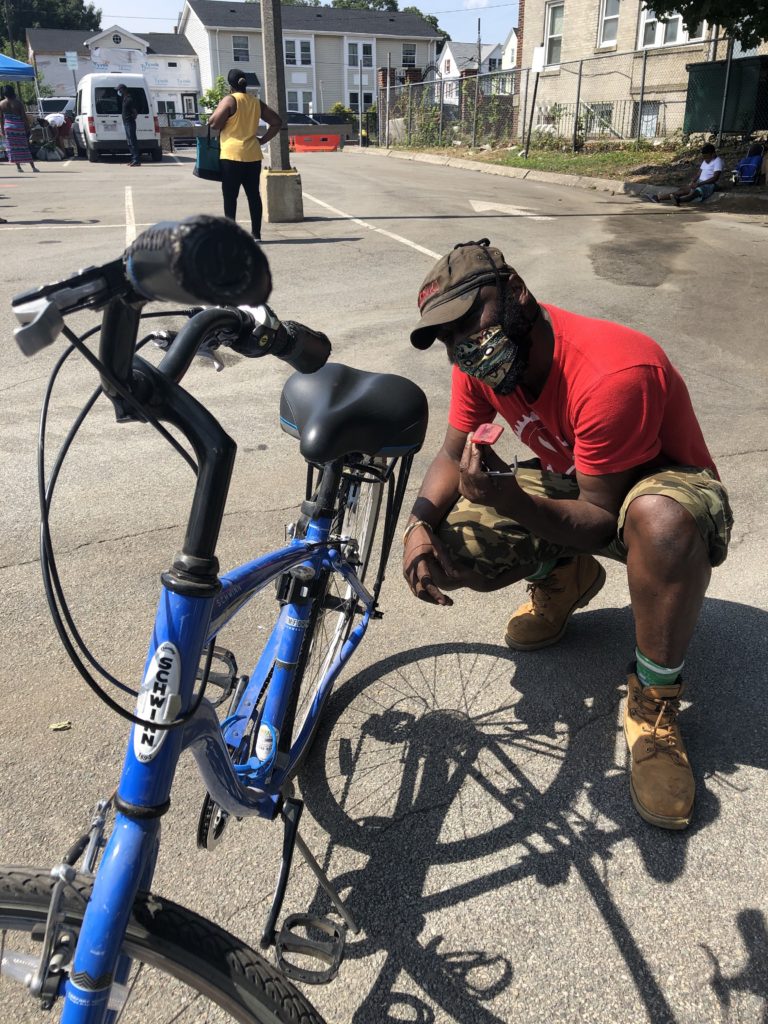 Dear BCU BTM folks,

Thanks for the opportunity to work with you and Mattapan Food and Fitness Coalition (MFFC) at the Mattapan Farmer's Market and at other events in the Greater Boston area!

Providing transportation and recreational options to folks during the pandemic has been very rewarding. Together, we were able to fix and give away a bunch of bikes!

It was also so productive working with BCU and MFFC to provide this community service in Mattapan. We look forward to continuing efforts together in the future.

OkCoolThx!
— Kunle, Katie, Luis & SBK

---
I love Bike to Market because I love learning new bike repair skills while helping my neighbors stay safe and mobile. My favorite part is always working with youth who are curious to learn some bike repair skills. One of my favorite moments was working with a young person who was using a wrench for the very first time.
— Laura
---
Volunteering at the East Boston Bike to Market was an all-around great experience that I am more than glad to be a part of. For me, it was a perfect opportunity to receive some first-hand experience fixing bikes. Even though I was only able to participate for a limited amount of time, I've learned enough to grant me a decent level of confidence in a field that I had no prior experience with. I fully intend on returning next year to continue learning and helping those in need, and I'm really looking forward to it!
—Nick
---
The thing that motivates me is that I just like tinkering with bikes; to think my tinkering could actually help people during the pandemic is a good thought in the back of my head. Despite that, the most memorable part of every job is sending someone off with a working ride. B2M at East Boston Market was a good time this summer.
— Kevin
---
Living in Europe, I witnessed how a bike-friendly society means a lower bar economically to comminuting, better health, sustainable and ecological transport, and also more fun! Ever since, I've been an advocate of safe biking for everyone, and I'm grateful for the fantastic work of the Boston Cyclists Union and the opportunity to contribute. It has been a blast to help folks with their bikes at the Mattapan farmers market and can't wait to continue the mission next summer!
— Jon
---
I am volunteering because I want to help advocate in my community for sustainable transportation options while helping to increase the overall enjoyment of cycling. It's been great to volunteer this summer and to see how the little fixes can bring such excitement to people and drastically improve their experience with their bicycles. It's been fantastic to see how just a simple brake adjustment has increased people's confidence in riding their bikes or replacing cables brings an older bike back to service.
— Jonathan