The Boston Cyclists Union is rallying residents to get out to vote in local election this year—including a high-stakes mayoral election in Boston.
Read our voter guide on this page, and then sign our pledge to vote and to make biking an issue at the ballot box!
Preliminary election: 9/14
General election: 11/2
Sign below to commit to voting and then read our voter guide below. We'll share this info with lawmakers to make the case that they should care about our issues. The more people who sign, the more power we'll wield!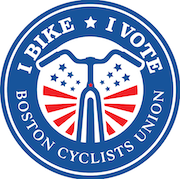 Where Boston's Mayoral Candidates Stand on
Biking and Street Safety
Responses below come from the Massachusetts Vision Zero Coalition's candidate questionnaire, which was sent to all candidates for mayor and city council in Boston, Somerville and Cambridge. Candidate Robert Cappucci did not respond, and so is not included in the info guide below.
Click the + sign to see more comments from each candidate
Vision Zero is a strategy aimed at eliminating serious injuries and fatalities using 5 types of actions, policing being one. Do you support removing police enforcement from Vision Zero?
NEITHER SUPPORT NOR OPPOSE
Do you support traffic calming for high-crash intersections and roadways of arterials to prevent crashes and save lives, even when it means taking away parking or travel lanes?
If the State House passes automated enforcement legislation that allows cities & towns to opt-in to a speed or red light camera program, would you support Boston using this tool?
Do you support free bus service on the MBTA and a low-income fare option for other public transit options?
In order to increase the amount of moderately priced homes in the city, would you support reducing mandatory parking minimums for all new development city-wide?
NEITHER SUPPORT NOR OPPOSE
How will you ensure all short-term cycling infrastructure projects are implemented within three years, and long-term projects are implemented by or before 2030?
The Boston Cyclists Union is a nonpartisan, 501(c)(3) nonprofit that does not endorse candidates. This guide is for educational purposes only. Complete questionnaires covering a range of transportation, climate and housing issues can be found here.