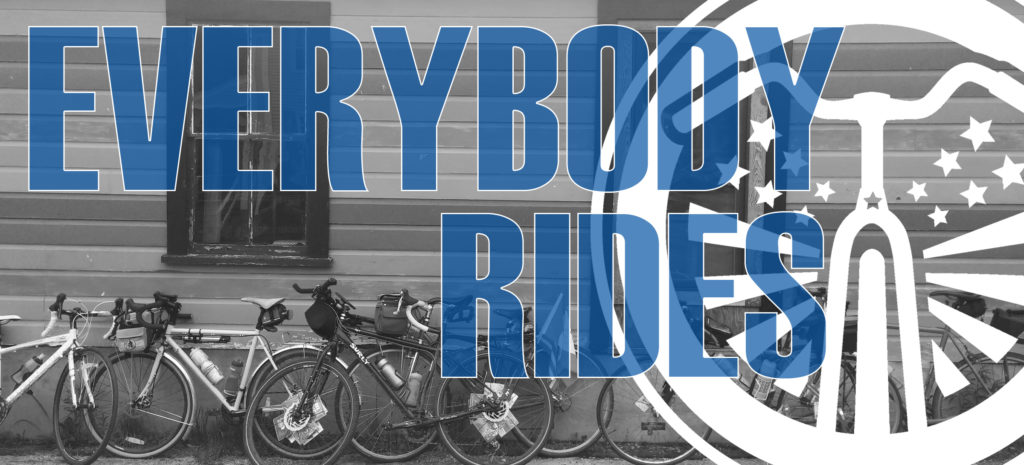 "EVERYBODY RIDES!" BOS/TREAL SCHOLARSHIP PROGRAM RULES
We understand that fundraising for this ride, obtaining the right gear, and having support to train might be barriers to participating in Bos/treal. However, we want this trip of a lifetime to be accessible to everyone! We'll be awarding a minimum of two scholarships to allow riders who might not otherwise be able to sign up and complete the ride.
If a scholarship to cover your fundraising and registration fee (except for $100 that we ask you to raise to build awareness for the cause) would make the difference in being able to sign up for Bos/treal, or you think someone else should participate and would benefit, nominate you or someone you know! Also note: all food, lodging, and travel costs are covered for the 7-day duration of the trip!
This program is being administered by the Boston Cyclists Union (BCU) to help select additional team members for the organization's Bos/treal cycling event happening May 26 - June 2, 2018. For information on BCU, click here.
THE NOMINATION PROCESS
AGE
A person of any age may nominate someone to be a BCU "Everybody Rides!" Bos/treal Scholarship recipient.  Riders themselves must be at least 18 years of age and fulfill all program requirements (as listed below) to receive their Scholarship benefits.
---------------
NUMBER OF ENTRIES
Nominators may nominate as many potential riders as they like (including themselves) through valid, repeat submission of our Nomination Form.
---------------
DEADLINE
Nominations must be received by end of day, Sunday, March 18, 2018.
---------------
CONTACT
- By providing their personal information, Nominators agree to be contacted by BCU or its representatives with respect to their nomination.
- Nominators also understand that Nominees may be contacted as necessary (using the information provided by the Nominator) throughout the judging process and for selection notification.
- Due to the potential high volume of nominations, only nominees selected for consideration will be contacted.
---------------
ABOUT THE PROGRAM
NOMINEE ELIGIBILITY
- The program is open to adults, age 18 or over.
- Nominees must not already be registered for Bos/treal 2018 at the time of nomination.
---------------
JUDGING
Selected participants will be chosen from among the Nominees submitted through our Nomination form at  and be selected by a panel of judges comprised of BCU Staff and Board Members. Judging will be based on the following criteria:
The response to the prompt, "Tell us how you/your nominee for our "Everybody Rides!" Bos/treal Scholarship might benefit from this life-changing experience."

Any possible follow-up communication BCU or its representatives may have with the Nominator or Nominee. Note: contact will likely only occur in the event where some clarification is needed.
---------------
SELECTED PARTICIPANTS
There will be at least two (2) selected participants chosen as "Everybody Rides!" Scholarship recipients via the Nominating process (as described above).
Selected participants will be chosen by March 30, 2018, and notified within a few days of their selection.
---------------
PRIZES/BENEFITS
Selected participants will receive the following:
Registration coverage for Bos/treal ($100 value)

$1,400 toward the $1,500 fundraising requirement for participation in Bos/treal. These funds will be given directly to BCU from a 3rd party donor, and the rider will be responsible for raising the remaining $100 to reach the $1,500 fundraising goal, and will receive support to do so.

Assistance in securing a bike and other equipment for the ride. This help will be of a consultative nature. However, there may also be material assistance given if sponsorship money or in-kind contributions become available for this purpose.

Guidance in physically preparing for the event, including invitations to official team training rides and a mentor to individually coach the rider in preparation for the ride, if desired.

One-year Boston Cyclists Union membership ($36 value).

During the ride, all food, lodging and transportation costs are covered for all riders.
---------------
COMMITMENTS
To collect their benefits, all selected participants must do the following:
1) Accept their selection as an "Everybody Rides!" Scholarship in writing via email or verbally via telephone within 5 days of notification.
2) Register for Bos/treal 2018 (May 26 - June 2).
3) Comply with all rules and requirements of the Bos/treal.
4) Meet the fundraising minimum amount of $1,500 required to participate in the Bos/treal Ride. Note that $1,400 of this minimum will be covered by the scholarship, so "Everybody Rides!" Scholars will need to raise $100 to meet this requirement.
5) Bring all necessary equipment required by Bos/treal. See bostreal.org for more information. Note that BCU will help secure equipment (on loan) for scholarship recipients in a collaborative effort. During the ride, scholarship recipients will be responsible for taking good care of any borrowed equipment. It will be the responsibility of the scholarship recipient to pay for repair or replacement of any damaged equipment on loan.
6) Participate in Bos/treal 2018. This consists of 5 days of riding, ranging from 50-100 miles each day, totalling 400 miles, at your own pace.  BCU ensures that you'll have a buddy to ride with, no matter your pace!
---------------
RELEASE OF LIABILITY
Selected Participants will be required to release the Boston Cyclists Union (BCU), BCU's staff and board members, ride sponsors and Scholarship sponsors, and volunteer event planners from any liability arising from any aspect of being selected as a "Everybody Rides!" Scholarship recipient including participation in Bos/treal 2018.
---------------
Questions? Contact Jon at jramos@bostoncyclistsunion.org or Becca at bwolfson@bostoncyclistsunion.org.
Fill out the nomination and help spread the word about this exciting opportunity!
Nomination form can be filled out by clicking here.