Speak up for 10 more miles of bike lanes in Boston!
Last year, our movement led Boston to add 6+ miles of new bike lanes. This year, we're building support for Boston to go further: 10 miles of protected bike lanes in the next year, and 10 more the year after.
Meet us at City Hall for a rally with speakers and special guests, where we'll call on the city to rapidly build out the bike network. Then, join us for a short, family-friendly ride highlighting the good and bad of Boston's bike infrastructure. We'll finish up with an outdoor afterparty with food and fun on Malcolm X Blvd. There will be some snacks, and you can bring your own picnic or pre-order takeout from Fasika cafe, which is just a block away from where we'll end.
Friday, May 21
📣 Rally: 5pm, City Hall Plaza
🚲 RIDE: 530pm
🥳 AFTERPARTY: 6:30pm Malcolm X Blvd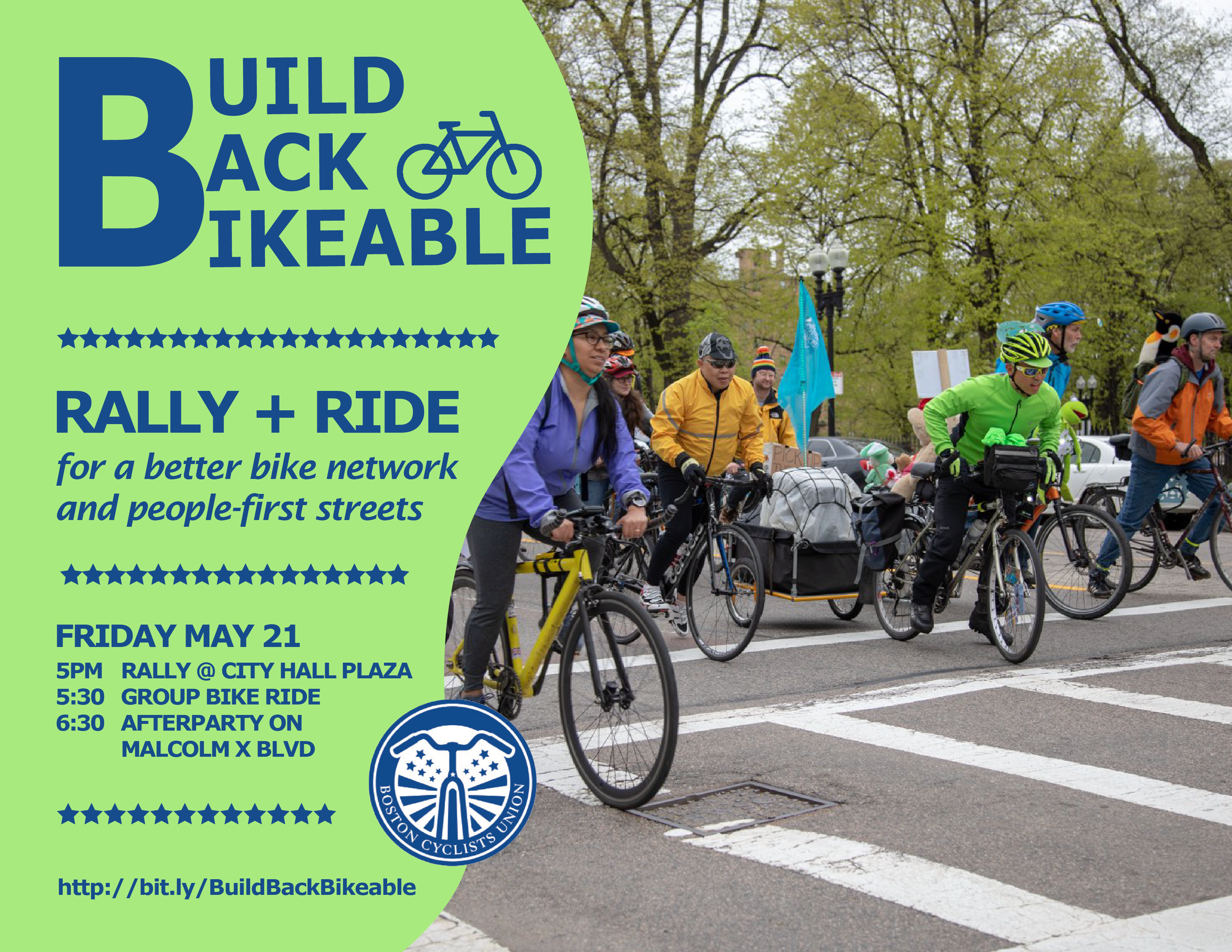 In our annual Boston Bike Budget campaign, we're calling on the city of Boston to add 10 miles of protected bike lanes this year and 10 more next year, with a focus on filling gaps and building out the network.
In addition to suggesting bike projects totaling 10 miles, we're also asking to:
• Remove the Northern Ave Bridge project as proposed
• Reduce the Boston Police Department (BPD) budget and invest in communities
• Pilot using civilians vs. police for traffic details, starting with open streets events and street festivals this summer. This would cut BPD overtime spending and reduce policing
• Remove police from Vision Zero
• Support the proposal to pilot free bus fares on busy bus routes
• Sign the petition, and share it with your friends! We'll deliver it to the City Council on Monday, May 24.
If you haven't done so already, sign our petition, which we'll deliver at the end of this month in conjunction with a city council hearing on the streets budget.
We're looking for a few volunteers to make signs/banners for the ride, to be ride marshalls (signalling turns, helping other riders) and to assist with setting up and breaking down the party zone.